Before Defgnw took a break from Loka in the fall of 2012, he promised Psychedelic98 that they would team up and create a fortress to serve as a base to raid from. In December of 2012, construction on the fortress known as Der Riese, or "The Giant", began. Der Riese was originally a large mob farm built on a tiny island off the coast of the mainland. Construction on the wall began shortly after, and a large series of tunnels was constructed underground.
The two owners of Der Riese were Defgnw and Psychedelic98, up until around March 2013, when Psychedelic98 blew up the vault of Defgnw, raided his belongings, and fled the city eastward, to an abandoned castle to begin work on what would become Fort Kickass. Pardalus rose to command in order to replace Psychdelic98.
While initially a fortress to plan raids out of, Der Riese became a sanctuary for the Computernites. The goal during this period was to defeat the Outlaw thieves, mostly located in Hidden Caverns.
Official work on Der Riese ended in late June of 2013, with the ban of Defgnw.
In March of 2015, construction begin on a spiritual successor to Der Riese with the town known as Fort Constantine.
Tunnels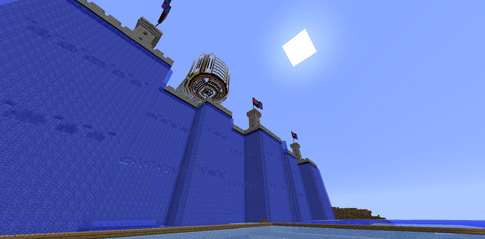 While the mob spawner in the center of Der Riese was built in the air, the majority of Der Riese lies underground in its tunnels. In the tunnels you can find many utilities such as
Farms for anything that can be grown
An Obsidian Generator
A Cobble Generator
Mulitple Storage Facilities
Iron Golem farm and sanctuary
Council Room
Library