Note* Not one of the Five Eras but a sub era of the (???) Era
The Slicers escaped to Loka after the destruction of the world that housed The First Artifact, a new era has begun.
Tying in with the onset of the new Third Generation of players, this Era was known as Era of War.
Gaia's Cradle Era <---Previous | Next--->Era of Thieves
Events within this Era: 
The Attack on Preksak's Lab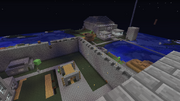 Battle of the Spire, Ending the Era of War.
Ad blocker interference detected!
Wikia is a free-to-use site that makes money from advertising. We have a modified experience for viewers using ad blockers

Wikia is not accessible if you've made further modifications. Remove the custom ad blocker rule(s) and the page will load as expected.