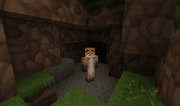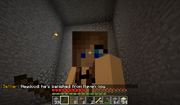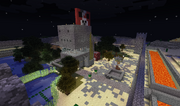 Note
Due to a recent name change, this town is now know as "Hollow Crevice"
Early Beginnings
Hidden Caverns is a third gen town. The founders of Hidden Caverns are 13scooter13, JocelynReed and Zachflash. It started of as a little foxhole in the ground that would protect us in the night. Which in turn Scoot decided to turn her skin into the Fox and have her den as Hidden Caverns. Loloplane would randomly come to visit every once and state how the house was too small, which only encourged the town founders to built grander rooms. In exactly three days Hidden Caverns became a generator protected town.
Fast forward three weeks later and we became a awesome town with the mooshroom we worship. Around that time Zachflash had to leave us due to his x-raying. From then on Scoot and Joce were by themselves to keep up a town. But they became hard workers and built a amazing town together! Now they have 13 members and still going strong.
Hidden Caverns was eventually left in flaming ruin as Zor95 and several others with the agreement of the town created a Wither within the city.
Worship
Hidden Caverns is a town which worships the beloved Mooshroom. The Mooshroom gods have blessed the town greatly and the town honors their gifts. Killing of a mooshroom on Hidden Caverns property will result in removal from the town and death to member.
Hidden Caverns Boasts:
A minecart station that connects to the world rail
2 Skeleton Grinders, 3 Zombie Ginder, 1 double cave spider grinder
7 undeveloped spawners
5 enchanting stations
1 potion lab, 1 witches tower
An Ice Spleef Arena & Outdoor Leaf Arena
Mooshroom house of prayer
Automatic harvesters (a lot)
Easy access to spawn
Town Portal
Large gen protected area
Rainbow Sheep
Temple of Worship
Hidden Caverns Rank system
Large town hall/ information center
Gardens
Protected Bidomes (Desert, Swamp, Snow, Plains, Forest)
Several Tree farms
extensive mining system
Wishing well
Large statue