Now demolished/heavily griefed, Jewel of the Nile was a city founded by MrAlchemy, often praised for his great designs in the city.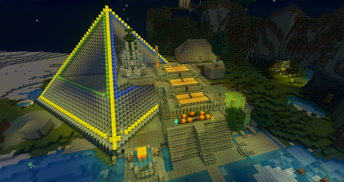 Following an egyptian/futuristic style fusion, the city had glass pyramids of enormous size as a very prominent feature.
A strong and faithful ally of Cathedral City, it was connected to the spawn-cathedral road and featured a small embassy on the outskirts.
Jewel of the Nile no longer exists, as MrAlchemy has moved onto another project, the Lotus Blossom Temple .