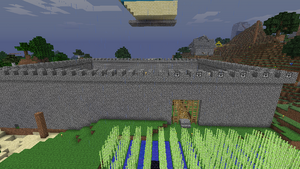 Paradise City - was a town founded by Iskeze, Nouvellune, and AIRC15. It was, at first, an unprotected, griefed, abandoned town that was previously home of mopb3, andyyou(Thelineguy playing on his friend's account), TLUL, and various other people who have left the server. It was repaired by the three founders. It was open to the public, but it failed due to one of the owners has had difficulty recruiting people due to connection issues. The beautiful space ship above it was the SkyCrawler, a flying version of the Tatooine, land-bound SandCrawler. It was blown up before Preksak could successfully destroy the Old World.
A replica of Paradise City was built on Loka, used for housing PvP events.
Citizens:
Epicbacon99 (Knight)
Menamister (Citizen)
Nouvellune (Founder)
Ad blocker interference detected!
Wikia is a free-to-use site that makes money from advertising. We have a modified experience for viewers using ad blockers

Wikia is not accessible if you've made further modifications. Remove the custom ad blocker rule(s) and the page will load as expected.