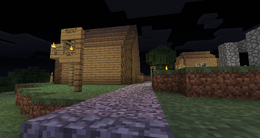 Quiet Hill - was a small village next to Cathedral City, in the world we called The Artifact.
Features
It was made by Toiongo to provide food and drinks for Cathedral City. Quiet Hill is located north-west of the city, next to a giant lake, on which Area 51 was settled. Right now the village features those buildings:
Mayor's Office
Storage
Mine
Wheat field №1
Wheat field №2
Melon field №1
Sugar Cane Farm
Port
Lighthouse
Library
Armory
House №1 (Belongs to Toiongo)
There are some jobs, which citizens of Cathedral City can perform, current list of jobs is:
New World History
Quiet hill is yet to come through to the new world, but all of the citizens of Cathedral hope to have it come through under, or near Cathedral itself. Plans have been made to build quiet hill under the city if it cannot be transfered.